District-Level Mapping for Location Planning
Make more informed decisions as you create a Germany district map in a heartbeat! Germany is a country located in Central Europe. Divided into 401 districts, the country has the largest economy in Europe. Hence, a district-level map helps discover the essence of location in a business. A distric map with Excel spreadsheet data reveals the perfect location for the business, where to expand, what new markets to reach out, and how to optimize deliveries. Combining customer data, demographics, and territory boundaries allows you to discover the real essence of business location when planning.
Using powerful tools to enhance data analysis is a great avenue for your business. For one, it helps you to be more familiar with the geographic classifications of your business. In addition, it helps identify key information that are valuable to your decisions. Therefore, mapping tools such as heat mapping or segmenting location data are indispensable for decision-making.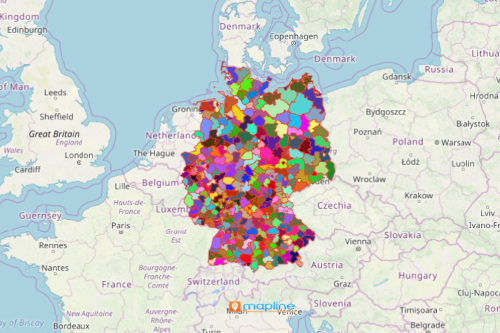 Germany District Map for Network Strategy
Creating a territory map takes only a matter of seconds. After which, you can start planning steps for business network and marketing strategies.
Create a Mapline account and login.

Click the orange "Add New Items" button.

Select "New Map" on the drop down arrow.

Give your map a name and click "OK."

Click the "Add" button from the left sidebar.

Select the "Territories" option.

Click "From Mapline's Repository."

From the "Territories" select "Germany Districts." You can also enter that on the search bar.

Select how you want your boundaries to be colored in "Fill Color" (Random Colors, Uniform Color, Dynamic heat map colors, or Custom colors from spreadsheet).

Click "OK."
As you sign up in Mapline, you will enjoy using the most powerful mapping tools first hand! Not only that, our dedicated customer service will help you and walk you through your data analyses.