Apply Mapping Tools on Data Analysis
Mapping Haïti Arrondissements helps business organizations to understand the competition. In this customer-driven world, mapping tools will help you up your game. Mapline continues to develop advanced mapping tools to let you know where competition is. One way is by understanding specific boundaries. For example, the arrondissement boundary of Haiti is unique. It is an administrative level below department boundaries. This particular boundary is often used in location analysis especially by the business sector to understand the competition.
With an overlay of arrondissement boundary, business companies can immediately pinpoint the best location for their prospective outlet stores. Furthermore, mapping boundaries help in identifying risks and opportunities of a particular arrondissement. A data-driven map with boundaries is also vital to understand the market. Your data analysis will capture potential markets or identify areas with saturated markets.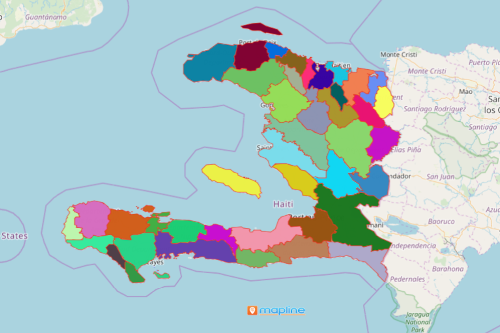 Mapping Boundaries to Define Business Strategies
Quickly create a map of arrondissements in just a few seconds. Once your map is up and running, you can start your data analysis to plan better strategies. Analyze your competitors so you can stay ahead of the competition.
Create a Mapline account and login.

Click the orange "Add New Items" button.

Select "New Map" on the drop down arrow.

Give your map a name and click "OK."

Click the "Add" button from the left sidebar.

Select the "Territories" option.

Click "From Mapline's Repository."

From the "Territories" select "

Haïti Arrondissements

." You can also enter that on the search bar.

Select how you want your boundaries to be colored in "Fill Color" (Random Colors, Uniform Color, Dynamic heat map colors, or Custom colors from spreadsheet).

Click "OK."
You can maximize the benefits of using other mapping tools to understand the competition. One tool in particular is the distance calculator tool. It helps to visualize competitors within a particular radius. Sign up now to explore more ways on how to understand the competition.