Mapping Location Data and District Boundaries Work Wonders
District councils consider a Tonga district map as a crucial tool in the economic development of tourism in the country. Tonga is a Polynesian country consisting of 169 islands. It is divided into 23 districts. Tourism is an emerging sector in the country. Hence, district councils are inclined to use a map that shows all 23 districts of Tonga in order to deeply understand the strengths and weaknesses of each district. Mapping an Excel spreadsheet of locations with an overlay of district boundaries helps in identifying the pros and cons of each area. The insights are pertinent to planning tourism initiatives. Examples of such initiatives are beach resort development, surfing, whale watching, and more!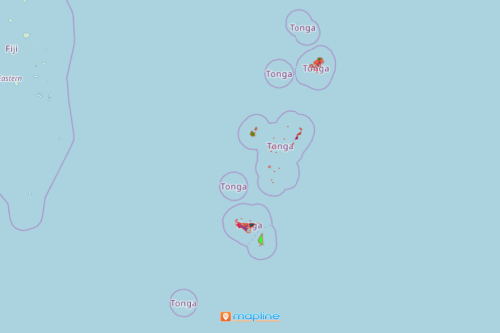 Easy to Create District Map 
Once your map is generated, discover more connections and patterns that you can use in decision-making. Radius mapping analysis is a great tool to find what makes a certain location more successful than the others. Start creating your district map now:
Create a Mapline account and login.

Click the orange "Add New Items" button.

Select "New Map" on the drop down arrow.

Give your map a name and click "OK."

Click the "Add" button from the left sidebar.

Select the "Territories" option.

Click "From Mapline's Repository."

From the "Territories" select "Tonga Districts." You can also enter that on the search bar.

Select how you want your boundaries to be colored in "Fill Color" (Random Colors, Uniform Color, Dynamic heat map colors, or Custom colors from spreadsheet).

Click "OK."
Sign up now and experience the ease if using mapping tools to customize your data analysis in business planning.