District-Level Mapping to Keep Everyone Aligned in Risk Management Planning
A Somalia district map is an indispensable tool in planning for risk reduction and management. Somalia is a country that can be found in the Horn of Africa. It is divided into 72 districts. Each district has its own strengths. Nevertheless, each district should be carefully monitored even before disasters strike. When data analysis is done on a district level, location data makes more sense. Why? Initially, you can recognize instant connection between locations and their district boundaries. Hence, you can respond to crises immediately. 
Of course, we do not want to wait for a certain disaster to strike before we take action. Critical incidents may happen at the least expected time such as natural disasters or health emergencies. Thus, sharing a district map with location-based data helps prioritize incident responses. Mapline is well aware that time is essential. A shared map results in a more organized process of delivering the resources to those who are in dire need.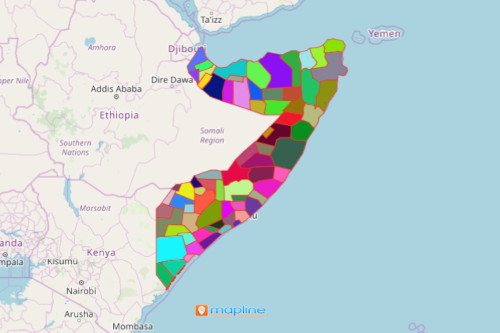 Make Your Somalia District Map Come Alive!
Creating a district territory map can be done in seconds. Once generated, apply other tools like radial heat mapping or multi-stop routes to streamline your risk management planning.
Create a Mapline account and login.

Click the orange "Add New Items" button.

Select "New Map" on the drop down arrow.

Give your map a name and click "OK."

Click the "Add" button from the left sidebar.

Select the "Territories" option.

Click "From Mapline's Repository."

From the "Territories" select "

Somalia Districts

." Use the search bar for quicker results.

Select how you want your boundaries to be colored in "Fill Color" (Random Colors, Uniform Color, Dynamic heat map colors, or Custom colors from spreadsheet).

Click "OK."
Sign up now and learn more on how mapping tools can be used in times of crisis. Implement plans real-time so that everyone is aligned on a risk management mission.