Map Regions of Denmark to Monitor Economic Development
A Denmark region map is fundamental in creating sustainable business growth. Denmark has one of the strongest economies in Europe. Because of that, a growing number of business leaders want to learn more about the country. What better way to learn about it is by having a region-level analysis. Maps are used to understand an individual region's strengths. In addition, they help analyze and visualize business and community growth potentials. Indeed, by combining data and regional boundaries, they have a better understanding about sustainable growth.
Mapline's regional boundary of Denmark can be used as a strategic approach in business. In addition, when you see the five regions plotted on a map, it easily pinpoints opportunities. Moreover, it also attracts new business ideas.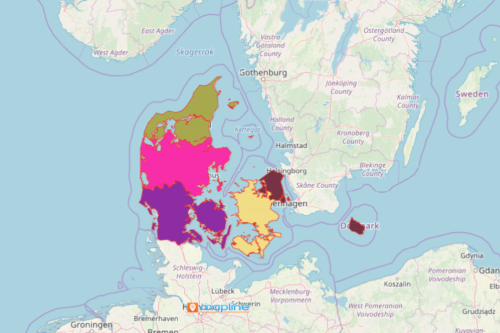 Discover More in Your Community While Creating a Denmark Region map
See how your business grows in each region. Begin mapping by following these steps:
Create a Mapline account and login.

Click the orange "Add New Items" button.

Select "New Map" on the drop down arrow.

Give your map a name and click "OK."

Click the "Add" button from the left sidebar.

Select the "Territories" option.

Click "From Mapline's Repository."

From the "Territories" select "Denmark Regions." You can also enter that on the search bar.

Select how you want your boundaries to be colored in "Fill Color" (Random Colors, Uniform Color, Dynamic heat map colors, or Custom colors from spreadsheet).

Click "OK."
True enough, a Denmark regions map helps in developing businesses development plans in real time. And it's only the beginning. Attract new customers and businesses as you apply customer segmentation and targeting in mapping. Sign up now to experience limitless possibilities in using maps for your business!